Singapore is a city where different cultures have merged over generations to create an international food paradise. One in four Singaporeans dine out everyday. In 2019, it was also the home of the cheapest Michelin-starred meal in the world (US$2.25).
Singapore F&B operator Koufu is really the story of Pang Lim — the erstwhile "king of coffee shops" who lost it all, started again, and eventually grew Koufu into US$170 million in annual revenue.
In the late 1960s, Pang dropped out of school as a 13-year-old and started work as an assistant for his uncle, a street-food hawker. After spending a few years washing dishes and selling noodles, Pang decided to give it a go himself. He set up an illegal street hawker stall in the Sungei Road neighbourhood (an area known as the "thieves market" since the items on sale came from dubious places) and was fined multiple times by health officers. Pang remained undeterred. He later said that he was "only thinking about working to earn money" — which was necessary, because his father died while he was still a teenager.
For the next few years, Pang would hop around different businesses. He worked as a kitchen helper in an upscale Chinese restaurant, opened a chicken rice stall (then closed it a year later to complete his National Service commitments), worked in a restaurant, and then left to start his own wholesale fruit business.
Wanting to prove himself, he left his fruit business and set up a (now legal) stall in a suburban coffee shop. He would sell bee hoon and nasi lemak (local dishes of rice vermicelli and rice cooked in coconut cream). This was where Pang first noticed the lucrative and comparably laid-back nature of the coffee shop business. While he had to wake up early, rush to prepare his dishes, and serve breakfast in the hopes of making enough money to pay rent, the coffee shop owners got to sit back and collect monthly cheques.
A side note: coffee shops in this context refers to open-air, food court-like businesses which dot the entire island of Singapore, a tradition that dates back to colonial times. A typical Singaporean or Malaysian coffee shop consists of a few mom-and-pop stalls which serve everyday food at inexpensive prices. They lease their stalls from the coffee shop owners, who act as the landlord and invariably operate the only drinks stall — which also has much higher margins. These coffee shops are locally known as kopitiams ("coffee shop" in Hokkien).
Pang and his wife thought that this was a business worth getting into, since it seemed to generate more revenue with less stress. They saved up for it. In 1990, when Pang's cousin offered them the opportunity to take over a coffee shop, they immediately said yes. They named this first coffee shop Aik Hua.
A decade later, Pang had developed a reputation as the "King of Coffee Shops". He earned it by expanding from one shop in 1990 to 56 shops in 2002. This meant an average opening rate of about one coffee shop every two to three months. Pang credits the quick expansion to a 1992 policy change which allowed tenants at Government-owned shop lots to buy over their units at subsidised rates. During this period, he could approach many newly-minted shop owners and offer to rent their shops from them, provided they shut down their businesses. Many owners opted to do just that — turning from business operator to landlord overnight.
But Pang was expanding his business in a time of changing consumer behaviour. Over the course of the 90s, shopping malls popped up across Singapore, reflecting Singaporean society's increasing affluence. Mall food courts emerged as a viable alternative to traditional coffee shops — and offered customers a more comfortable, cleaner, air-conditioned dining experience. The emergence of food courts threatened the stability of Pang's coffee shop business. He responded by venturing into the food court business himself. Pang hired the ex-manager of the first food court in Singapore and opened his very own Happy Times Food Court in 1996.
But it wasn't enough. Pang began to realise that his collection of 56 coffee shops were awkwardly put together. Each shop was run as an independent entity, which made it difficult for Pang to implement strategic changes. Pang said, in a 2017 case study:
At that time, we only thought about getting bigger, but bigger is not necessarily better.
After the 1997 Asian Financial Crisis and the economic downturns of the early 2000s, Pang made the decision in 2002 to sell Aik Hua for US$5.4 million to the Kopitiam Group, a rival business, operating a chain of successful food courts. Pang described it as "one of the toughest times of my entire life."
But Pang retained three out of the 56 shops sold to Kopitiam Group. He slowed down to reform management and introduced new coffee shops that could compete against the rising food court format. A short while later, he went back to Kopitiam Group to buy three food courts, to start the Koufu food court brand.
Uncharacteristically, Pang started Koufu by paying US$108,000 for a brand consultation project (US$75,000 of the amount came from a government subsidy). Out of that investment came the now-famous Koufu brand. Koufu is a Chinese phrase: "口福" which translates literally into "mouth fortune". The brand's illustration includes red calligraphic brush strokes of the Chinese character "口" (mouth) which help symbolise the prosperity and the traditions of the food company. And in recognition of the changing F&B industry — one where Singaporeans were willing to pay slightly more to eat in cleaner and more comfortable food courts — the English pronunciation "koufu" is written right below the Chinese character in a youthful font.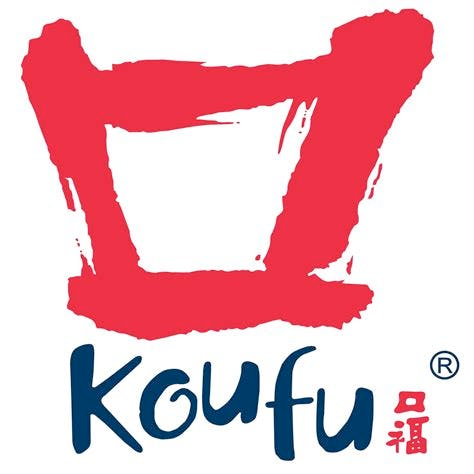 Pang took this brand in 2002, with its three food courts, and grew it to achieve a peak revenue of US$170 million in 2019. In their 2020 annual report, Koufu Group managed 51 food courts (including three in Macau, China), 18 coffee shops, 129 F&B units (stalls, kiosks, restaurants), one mall and another 184 authorised or licensed F&B units in Southeast Asia.
Pang seemed to have learned important lessons from Aik Hua — he never again pursued growth for growth's sake. Just one year after commencing operations with the Koufu brand, Pang built out their first central kitchen, sized at 38,000 square feet (3500 square metres). The kitchen would prepare some of their group's F&B products like soup bases and ingredient prep. Since a portion of Koufu's food prep was centralised here, they could now use their combined purchasing power to enjoy bulk discounts from ingredient suppliers. Additionally, the customer-facing employees at each food court would be freed up to focus on serving customers, instead of preparing food from scratch.
In general, the three largest variable costs in the restaurant business are rentals, ingredient costs, and labour. Koufu's scaled structure allows it to reduce costs on all three.
For instance, in land-scarce, high rental Singapore, the central kitchen strategy has allowed Koufu Group to operate food outlets with smaller kitchens (or even with no kitchens). This enabled them to cut down on rental costs, which may well be the deciding factor in whether an outlet remains profitable. For example, a small basement F&B kiosk — sized at 355 square feet (33 square metres) — located in a mall within Singapore's premier shopping district may cost more than US$7,200 a month in rental. By shifting meal prep to kitchens in cheaper industrial locations, Koufu saves on rent and gains the financial flexibility to open outlets in prime locations.
Koufu Group continued with this strategy by using a portion of their 2018 IPO proceeds to fund the construction of a second centralised kitchen — which was part of a much larger integrated facility at 215,000 square feet (20,000 square metres). The facility also houses a centralised dishwashing facility, a training centre, a research & development centre, and a warehouse.
It's interesting to note that many of these new facilities were intended to wring out more cost efficiencies. For instance, the newly-built centralised dishwashing facility would allow them to invest in more sophisticated dish-washing equipment, and reduce labour costs. Koufu's R&D centre was also tasked to find better methods to improve cost efficiency.
Separately, Koufu's branding and group size gives them some leverage when negotiating with mall owners. From the perspective of a mall owner, leasing to a branded food court is ideal because food courts often serve as the 'default option' for a mall customer. And in fact, a good food court with reasonably priced food options may bring in more foot traffic and increase shopper satisfaction; it also serves in keeping shoppers within the mall, instead of having them look for lower-priced/higher-variety options nearby.
All together, Pang's approach to scale for Koufu Group differed substantially from Aik Hua's:
Koufu's centralised kitchens and dishwashing facilities allows them to lower unit costs with higher productivity;

Centralised purchasing gives them access to bulk discounts;

Centralised training enables them to amortise training costs across multiple eateries;

Their branding gives them some leverage when negotiating with large property groups or small landlords.
In December 2021, Pang took Koufu Group private again, citing cost-cutting reasons. It seemed the regulatory burden of staying a public company in Singapore outweighed the access to capital markets.
One final note. The authors of this case study think that Koufu Group has not played the branding game as well as Food Republic and Food Junction (both managed by its competitor, the Breadtalk Group), especially over the previous few years. The food at many Koufu outlets are viewed as mediocre, and occupy a middle-to-lower end of the market. On the other hand, upscale food courts operated by the Breadtalk Group, which may be found in top-tier malls across the island deliver quality food at higher prices, and have maintained a destination status amongst local patrons. While Koufu enjoys higher scale advantages, Food Republic and Food Junction appear to have better positioning.
Crowdsourced reviews of the two food court brands seem to support this view. Cookhouse by Koufu (an upmarket Koufu brand) in downtown Singapore has 3.6 stars from 45 reviews on Google Maps. A comparable Food Republic, also in the downtown area, has 4.0 stars from a much larger base of 1,160 reviews. Regardless, both authors hope that Singapore's diverse food culture won't be scrubbed over by faceless food conglomerates — the food courts groups may benefit from scale, but such scale should not come at the expense of quality.
Questions
Compare this case with a previous case you've read. What is similar? What is different?

Does this remind you of a similar case? If so, what is different there?
If you have any thoughts, feel free to comment in the member's forum.
---
Sources