Ironically, the story of the iPod starts with Bill Gates. In a January 2000 keynote address at the Consumer Electronics Show in Las Vegas, Gates revealed Microsoft's grand plan to usher in the next age of technology — the "consumer-electronics-plus" era. His vision was to create a digital bubble around consumers through devices that would give them easy access to their favourite music, news, entertainment, and photos. Of course, the centre of this system would be a Windows OS PC. And what he said served — in the words of Brent Schlender — as a forecast, a warning, and a blueprint. At this point, 90% of the world's personal computers ran on the Windows operating system. Microsoft's software was also running the servers used by governments and big corporations to store huge amounts of data.
By contrast, Apple was just trying to stay afloat. Jobs had launched the iMac a couple of years ago, but sales had started to flag. While a community of diehard Mac loyalists still existed, Apple was mostly operating in a niche of the personal computing market. All signs pointed toward Microsoft leading the world into this new age. Gates had the vision and the resources to take that decisive step towards the future; they were seen as the most likely victors.
Gates's speech prompted an emergency off-site meeting for Apple's top executives to discuss the direction of the company. The discussion was focused around the new burgeoning consumer-tech age. It was safe to say that Apple's attempt at entering this space through its video-editing application iMovie had failed. Launched in 1999 as part of a new generation of iMacs, it hit the market just as digital video cameras became affordable. So why didn't it work? Although very well designed, editing a video through iMovie was a time consuming process. Users would only try it out on the off chance that they found themselves with a lot of free time. Apple needed to create something that consumers would come back to more regularly. Perhaps even on a daily basis. The big question was what that would be.
In the summer of 1999, Napster's viral success had sparked the digital music revolution. A software application built by college students, it allowed anyone with an internet connection to upload, download, and share MP3 files. Worse, it was free.
If that sounds too good to be true, that's because it was. Napster gave rise to sweeping piracy issues which all but crippled the record label's pre-existing business models. The record labels did not take this sitting down; they sued Napster and eventually got the service shut down in 2001. But the entire Napster episode had made one thing very clear — digital music had arrived, and it was here to stay.
Apple missed the digital music boom because Jobs, back from exile for his second stint at Apple, had been too busy getting the company in shape — trimming the product line, cutting the fat from the workforce, etc. But now with Apple finally stable again, it was ready to do new things. The executives on the retreat realised that the answer was staring them in the face — they could launch a digital music management application to capitalise on the boom. And so iTunes was born.
Apple preferred to develop its own software from scratch. But since they were already late to the party, they used some existing software as a base. They did this by acquiring a company called SoundJam — founded by two ex-Apple employees, SoundJam's software let Mac users use portable MP3 players and gave them an interface to manage their music on their computers. The acquisition — which was a clear sign of Apple's intention to join the digital music revolution — was top secret. In fact, the terms of the deal included clauses compelling SoundJam's software distributor to continue selling the existing product even after the acquisition. This occurred in March 2000. In The Perfect Thing, Steven Levy quotes Jeff Robbins, the co-creator of SoundJam:
"Sound Jam was sort of a Swiss Army knife of features-it had everything but the kitchen sink in it, and yet it was missing some of the core fundamentals that made iTunes ... iTunes."
Now the goal was to make the interface as clean, simple, and easy to use as possible. The team worked remarkably fast and less than a year later, Apple officially launched iTunes at Macworld in January 2001. Here Jobs took the opportunity to describe Apple's version of the future. He presented the concept of a "Digital Hub" — featuring the iMac in the centre, with 6 spokes extending to a camera, a personal digital assistant, a DVD player, a CD walkman, a video camcorder, and a digital music player.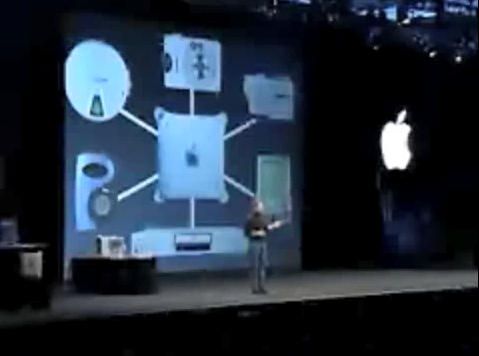 iTunes was a resounding success. It got close to 300,000 downloads in just the first week after it launched. The iconic "Rip. Mix. Burn." campaign only propelled it further ahead. But Jobs had already found another problem to solve: apart from the iMac, Apple did not currently make any other part of the Digital Hub.
The idea for a digital music player arose directly out of iTunes. As more and more people in the Apple ecosystem began using the application to listen to music on their computers, it wasn't long before they wanted to take their music _with _them. They wanted to listen to their music collection while on runs, drives, and walks. The problem? The portable MP3 players available on the market were terribly designed. What's more, they ended up completely butchering the elegant iTunes interface. And it wasn't just the folks at Apple who looked down their noses at the other MP3 players —  sales of the devices only totalled to ~500,000 in 2000. This was disproportionately low compared to the rapidly increasing popularity of digital music.
Apple decided it would build its own portable digital music player. This was a big step. At this point, Apple was still exclusively a computer company. This new device had the potential to (and eventually did go on to) change the company's identity. However, that wasn't how the Apple team viewed it at the time. They saw the project as a low-risk wager, and the music player itself as a computer accessory of sorts.
Most MP3 players already on the market had made a trade-off on the size of the device — most of them were clunky — for the sake of decent storage capacity. This was because the hard disk drives used for storing data were big and heavy.
And then Jon Rubinstein, Jobs's leading hardware engineer, found the perfect solution. During one of his routine visits to a Toshiba factory in Japan in February of 2001, he saw a hard disk drive that could store 5GB and was scarcely bigger than a silver dollar. Toshiba hadn't really found a solid use for it yet, but Rubinstein quickly saw its potential. It was such a momentous find that Jobs reportedly immediately authorised a sum of $10 million for Rubinstein to finalise a deal. Apple ended up negotiating a deal where they got exclusive rights to every single such hard disk drive Toshiba made. This was a huge (well, not literally!) part of the puzzle solved. Apple's vice-president of iPod product marketing said:
"Jon's very good at seeing a technology and very quickly assessing how good it is. The iPod's a great example of Jon seeing a piece of technology's potential: that very, very small form-factor hard drive."
The wheels were in motion. Innocuously named "Project P-68", the iPod was finally on its way. Rubinstein had already secured a suitable LCD screen and rechargeable lithium-polymer battery. He reached out to Tony Fadell, an ex-General Magic employee, to lead the project. It so happened that Fadell was working on his own startup which was making an MP3 device. He first came onboard the iPod project as a consultant, and then later, a full-time employee.
Originally published , last updated .